<- Back to Rainbow Bridge
Dakota (was Nasaree)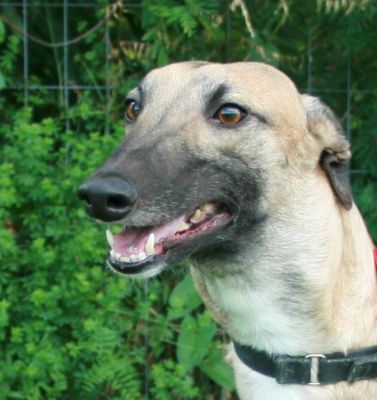 Dakota has left for the Rainbow Bridge.
Run pain free, Sweetheart.
You were the epitome of the "Walmart Greeter" - you will be missed by a lot of people!
----------
Nasaree has been adopted! Update soon!
-------
Nasaree seems to have a slight issue with her rear left leg - an injury, possibly a collision that has caused some calcium build-up, and maybe a pinched nerve - but it doesn't slow her down, this gal LOVES to ZOOM and gets around just fine, she even jumps without a problem into her upper level kennel!
She seems to adore the children she has met and will slow right down to be very gentle with them - a very sweet & delicate pretty girl with a big smile for all!
Nasaree's brothers are the handsome boys Risban & Zaffer who can be seen on the Happy Tails page - what a gorgeous litter of pups that must have been!
Registered Name: Nasaree
Sex: Female
Color: Fawn
Right ear tattoo: 126G
Left ear tattoo: 40687
Birthday: Dec 23rd, 2006
Arrived at NGA: May 15th, 2009
Date this dog passed on: Apr 3rd, 2011