<- Back to Happy Tails
Sil (was Sylvester)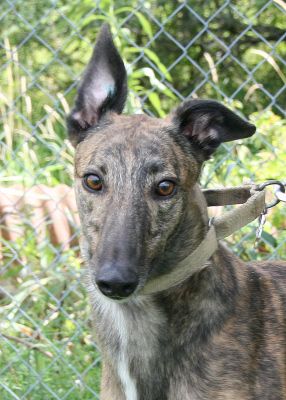 Sil's Mom writes:
"Sil would like to say hello to all his friends - both four legged and two, and a great big thank-you to all the wonderful people who took such good care of him while he was at the kennel. He is enjoying home life and has already learned to get up on the couch and bed. He sends a big hug and kiss to his special friends and says he misses them and everyone, but is enjoying his new adventures."
---
Laura - adoption coordinator for GSNR (Ottawa and surrounding areas) writes:
"Sylvester is now known as Sil!

He travelled really well to the meet-up place which was Kingston, Ontario. Our drive was about 4 hours and he was perfect in the car the entire time (aside from some odorous emanations which were totally understandable!).

He seemed to like his new mom and dad from the moment they met, and their ride home (about 3 hours) was also uneventful. Sil now has 2 greyhound brothers (Skye and Andy) and a Rhodesian Ridgeback sister. The introductions went well, and Sil's first dinner was roast pork with potatoes and a vegetable stew.

I got this update from Sil's new mom that I wanted to share with you all ... "Sil isn't too timid already. He gets up on the couch and the bed with no hesitation and likes to sleep with people. He's not at all agressive towards the others and has learned his place - Skye told him that he's not allowed to clean out Skye's bowl until Skye decides he's totally finished with it - now he won't touch Skye's bowl. LOL He's learning about the backyard and is a smart boy- he watches the others and does what they do. He went up and down the stairs the first night home without anyone teaching him* - just saw the others doing it. Laura, are you sure he wasn't in a home before?"

I have some pictures that I want to send you as well which I will try to do this evening.

I think Sil has found himself a good home!"
* note about stairs: there are some wonderful volunteers (Diane & Martha) who take the kennel dogs for walks in areas where the dogs will meet and get accustomed to obstacles like stairs - which can help make their transition into a home so easy!
---
SYLVESTER HEADED HOME ON THE 26TH OF SEPTEMBER!!
He's going to a lovely home near Toronto with two Greyhound brothers and a Rhodesian Ridgeback sister, and a Mom who COOKS for her dogs!
---
Sylvester is a happy handsome boy with a great sense of fun, one volunteer has nick-named him "Silly-V", another calls him "Sly" - we're all VERY fond of this sweet boy. He's very affectionate and fun-loving, and he will SIT at your side to be loved up - sitting is rare for a Greyhound!
Sylvester is also a WONDERFUL walking companion! He walks loose-leash at heel and wants nothing more than to please the people he knows and loves.
When meeting Sylvester he needs PATIENCE. He does not warm up quickly, and it may take some time to get him to come to you at first. Try sitting on the bench in the turn-out area and let him approach you, or have a volunteer he is familiar with bring him for a walk in the big yard and join their walk letting him become accustom to you in his time. Bring a toy for him to play with - he LOVES toys! Taking the time to get to know Sylvester will be its own reward!
Sylvester also adores children and has been wonderful with the ones he has met, he would be an excellent fit for a family with kids that want to play fetch with their dog, kids that like the rest of the family who know how to be gentle as well as playful.
It would also have to be a home without small animals - he has not tested safe with cats or other small animals and may not ever be.
Sylvester has been here for well over a year now, since May of 2009. This is no fault of his own, his people just haven't arrived yet - is your home the right one for him? He would someone a VERY happy Greyhound owner!
Registered Name: Sylvester
Sex: Male
Adopted on: Sep 26th, 2010
Color: Brindle
Right ear tattoo: 56A
Left ear tattoo: 38009
Birthday: May 2nd, 2006
Arrived at NGA: May 15th, 2009