<- Back to Happy Tails
Trigger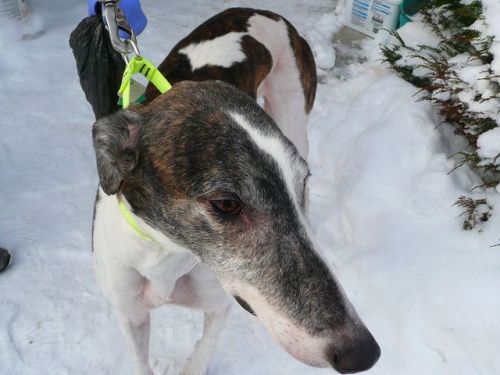 Trigger was known at the kennel as "Tigger", but his sheer size makes the horse name very applicable! Trigger is a wonderful ambassador for retired racing Greyhounds with his calm demeanor and happily confident personality.
He is loving home life with his Grey-sisters Lulu and J-Lo, and his non-Grey brother Riley.
His new human parents say: "Trigger is starting to show his playfulness and his inquisitiveness. He is amazed at the sights and sound outside in the yard. Inside, he runs back and forth with a toy or ball in his mouth like a bull in a china shop. He clearly doesn't know how big he is or any clue about spacial awareness. Then he tuckers out and heads for his bed where he rarely can figure out how to get his head and body on the bed at the same time. He loves being covered with a blanket when we go to bed as do his sisters- J-lo & Lulu.
We are enjoying him so much and wish that we could take them all!"
Registered Name: UMR Determinator
Sex: Male
Adopted on: Mar 15th, 2009
Color: White and Dark Brindle
Right ear tattoo:
Left ear tattoo:
Birthday: Nov 14th, 2002
Arrived at NGA: Aug 1st, 2007