<- Back to Happy Tails
Penny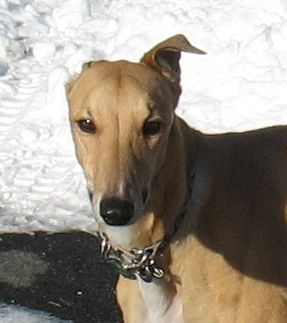 Lovely Penny found a home!
She has found a home almost exactly like what she is familiar with - everyone got one another's info to keep in touch. A very happy tail indeed!
------------
A note from Penny's Mom's daughter;
"Penny was born in August of 2008, she is a fawn with black muzzle. She is AKC registered, from coursing bloodlines, but has never raced or done coursing. My mom has owned her since she was 12 weeks old (she shipped in from Idaho). She weighs about 51#. She crates well, but should not be in a "kennel" situation where she can beat her tail up, as she is currently recovered from having the last 3 vertebrae of her tail amputated due to this. She is a sweet dog, lives well in the house, but is very quiet about asking to go out, so attention needs to be paid to this in a home. She is not, however, quiet about asking to be let back in (she jumps on the door). She is a bit of a princess and will counter surf if given the chance. She likes to run & play with medium to larger dogs, but does play with her mouth, & will put the head of smaller dogs in her mouth. She walks on a leash, but has really never been taught not to pull & jump at cars when on a leash. My mom's utmost concern is that Penny gets a good home where there is a fenced-in yard and that she gets out to play a lot. In her ideal world, she wants to meet the people adopting Penny and see their yard. I told her that might be hard to do, but that they most likely would be able to contact her & let her know what they have, & how Penny is doing. Attached are some pictures of Penny."
Registered Name: Penny
Sex: Female
Adopted on: Apr 14th, 2013
Color: Fawn
Right ear tattoo: none
Left ear tattoo: none
Birthday: Aug 1st, 2008
Arrived at NGA: Apr 14th, 2013