<- Back to Rainbow Bridge
Irene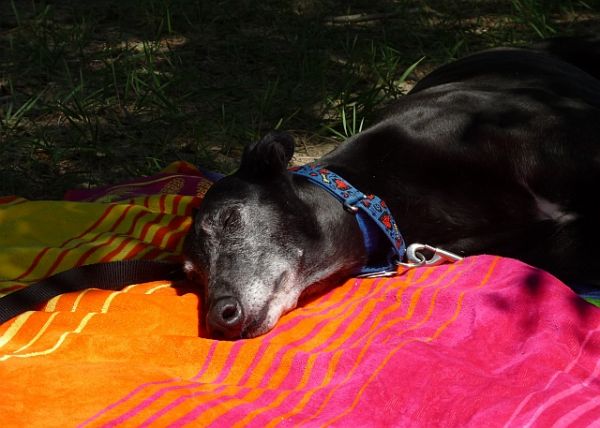 Irene (Racing Name: Irate Irene DOB: 1/1/2000 Ear mark:10A-85943):

1/1/2000-2/15/2012

Irene's racing name, Irate Irene, didn't suit her, as she was kind and
gentle to all. She loved walking through the woods, lounging at the
beach, taking road trips, and of course napping and snuggling with her
people and her kitties. She always surprised us, as when she began
digging holes when she was 10 or would suddenly take over a chair she
hadn't cared about for years. Irene died painlessly after we
discovered she had a swiftly progressing cancer that could not be
treated. She was our first dog and our best friend. We miss her every
day and will never forget her beautiful spirit. Run free sweet Irene!

Many thanks to Northern Greyhound Adoptions for providing us with such
a wonderful friend.
Registered Name: Irate Irene
Sex: Female
Color: Black
Right ear tattoo: 10A
Left ear tattoo: 85943
Birthday: Jan 1st, 2000
Arrived at NGA: Apr 16th, 2002
Date this dog passed on: Feb 15th, 2012