<- Back to Rainbow Bridge
Shenzi (was Quartz)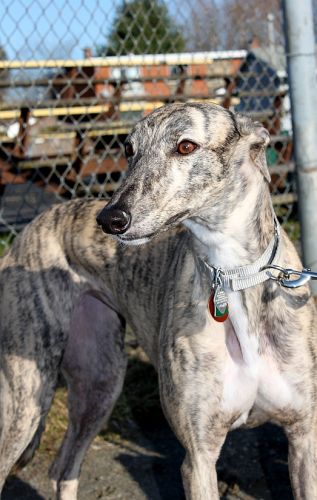 Our princess will be in our hearts forever.
you were so loved darling 😢💔
It's been two months now that Shenzi is part of our family. She is doing great, warming up each day more to us.
Transition with her new sister Kawaii (7 y.o. Jack Russell) has been better than expected. For Kawaii it went from «I tolerate you» to «I accept you» to «finally, I think I like you», thanks to Shenzi's great personality.
She gets along very well also with our two cats, one is already confident enough to go between her legs at breakfast time!
She loves to cuddle with us on the couch, she also likes to play in the snow, something that still is a special treat for Florida girl!
She has what we call her «love attacks» where all of a sudden she gets off the couch, tail starts wagging and she just has to distribute kisses to everybody in the living room. It lasts for maybe two minutes and she goes back to the couch, as if nothing happened. Very funny!
She loves rides in the car, and she also loves people, she has to greet everybody new she meets. What a lovely girl!
Oh, and she is very intelligent, she already understands many words, like «go for a walk» or «go get Olivier at school» ! she responds by running at the door!
So once more thank you to everybody involved in finding us a great dog!
Marie Josée and family, Cowansville Quebec
Registered Name: BB's Tia
Sex: Female
Adopted on: Nov 4th, 2011
Color: Fawn Brindle
Right ear tattoo: 19A
Left ear tattoo: 49396
Birthday: Jan 9th, 2009
Arrived at NGA: Sep 24th, 2011
Date this dog passed on: May 25th, 2019