<- Back to Happy Tails
Eros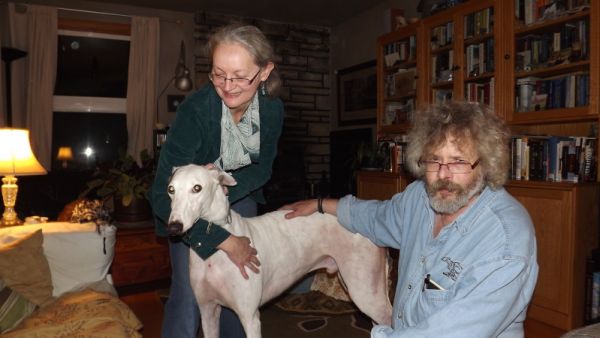 The great loving white Eros walks on leash rather well, but in his new natural habitat is bothered by fleas. He tends to keep his fellow animals, the two legged sort, who also live in his territory, awake for some 95 % of the hours of darkness. The great white Eros wants up on their bed but on account of his size, this is discouraged.

The biological expulsions of the White Eros are large and well, large. He had the male 2-legged up to take him out only once during the night, A quick pee on the bushes and he went back in to wander, finding things to add to the pile on his bed (unused for sleeping by him, as the small amount of sleep he got, was engineered on the living room couch.)

Inquisitive about EVERYTHING (or better said, Anything) the White Eros steals a wide variety of objects to pile into his bedding. Underwear, empty kleenex boxes, socks, every shoe in the house, toilet paper rolls - which he actually took off the holder...), cushions, Kitchen impliments found in a drawer. He found, liberated the toys of Nitro shortly after he arrived - and began to play with them.

Anything even remotely resembling food is of vast interest to the great white Eros - open the fridge or cupboard and he will be in it; as much of him as is possible. He will stand on chairs to survey the table. The great white Eros is exceedingly affectionate, but has a tendency to jump up to meet new people - Again on account of his size, this is certainly discouraged. Little, old or small 2-legged would not stand a chance against his bulk, strength.

As well the great white Eros is really really intelligent. He Figured out the front door in being out twice, Too he can see in flat objects, three dimentions. He challenged the painting in the hall - figuring that it was actually a person who was supposed to pat him. and watched television (program on Russian wolves with interest to the point of trying to get behind the set, to find the wolves...) Hinterland who's who episode completed.

In short You brought an incredible Greyhound to what will be a very well suited forever home.

At present, as I write this, he is finally sound asleep on the sun-room couch.

1/2 Brother to NGA adoptee Taco!!
Today I'm on my way home!!!
Registered Name: Tylur
Sex: Male
Adopted on: Oct 19th, 2011
Color: White & Brindle
Right ear tattoo: 117A
Left ear tattoo: 44832
Birthday: Nov 16th, 2007
Arrived at NGA: Jul 1st, 2011