<- Back to Rainbow Bridge
Rosalie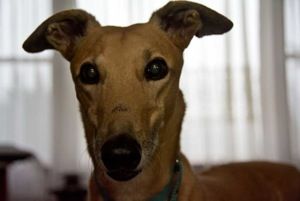 Our beloved Rosalie just passed on Nov. 17th. She was only 11 & ½ and we'd hoped she'd be with us for another couple of years, but it was not to be. In the too-short three plus years she was in our family, she befriended everyone she met, charmed and endeared herself everywhere we went. She humored the cat and was calm and polite with other dogs except when her younger (and twice as large) cousin threatened her and she had to tell him to back off. He did. She took us on hikes uphill and down and through thick brush and woods. She paced herself to our slow jogging and luxuriated in sunshine.
It was a delight to watch her roll around on her back on the rug in the sunshine and on a few occasions toss one of her stuffed toys across the room. She did her yoga stretches every day and hardly ever took the stairs, instead leaping elegantly on and off the porch, no matter the weather.
Rosalie loved raw poultry and bones, fish, and eggs and ate her greens and supplements because they were good for her. She loved her treats of grain-free organic kibble and dehydrated organic liver. She arrived with a lump under her chin which disappeared after a year on her new diet, but we weren't able to ever get her teeth as clean as we and her doc wanted. Although she generally had clear preferences which we tried to accommodate whenever possible, sometimes we had to ask her to accommodate us, and she did so graciously, except for one exception. She was just too anxious to be left alone.
She did her best to outrun the cancer, but was unable. Nonetheless, she will always be a champion in our hearts. Even her vet cried at her too-sudden, too-early death.
Thank you for giving us these three precious years,
Leslie Tawnamaia & Greg Warner
Registered Name: CV's Rosalie
Sex: Female
Adopted on: Jul 27th, 2011
Color: Red Fawn
Right ear tattoo: 23F
Left ear tattoo: 17814
Birthday: Feb 4th, 2003
Arrived at NGA: Jan 1st, 2010
Date this dog passed on: Nov 17th, 2014