<- Back to Happy Tails
Gordy Konstantinos (was just Gordy)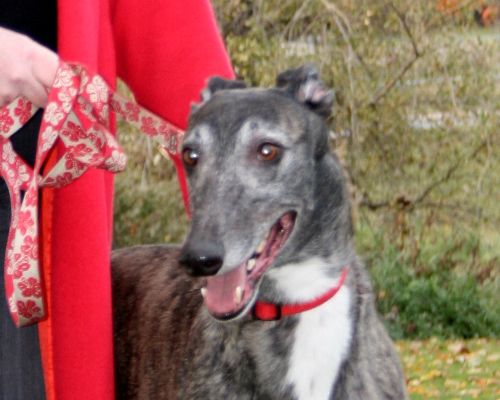 Gordy is a large beautiful boy and a real character. He loves loves loves stuffed animals, he consistently steals others' toys - shameful! He also so loves to watch kids play ball - he might like to play himself!
-----
Gordy has gone home to NYC, he is now living in a lovely brownstone next to Central Park, he has a Momma that is home with him almost all the time, and he is enjoying his adventures in the Big City - what a lucky boy!
-----
Notes from Gordy's Mom ...

10/18/09: "Gordy arrived in NYC at about 4:30 this afternoon. He was beautifully behaved in the car. After ripping apart his new chimpanzee, he fell asleep and rode most of the way with his head on my lap.

Once I and Joan exited the West Side Highway in Manhattan, he stood up in the car and just couldn't believe the swirl of activity outside. Was especially mesmerized by the sight of other four-legged creatures who looked little like his fellow greyhounds. A sudden dynamo of energy, he barrelled up my stairs and began exploring every inch of my apartment, picking up or nuzzling open most everything he could. When he stuck his head in a Chinese urn on the floor (think he thought it was a bucket with water or food for the taking), I knew it was time to set up his crate!

After we both had a brief nap, a nearby friend stopped over to meet Gordy, and I released him from his den. He couldn't stop kissing her, and she couldn't believe how friendly and open-hearted he was after such a traumatic day. We bundled him up in a lovely coat with a snood that she brought him, and he had a pleasant stroll in the park (he was much less wild on the leash this second time).

Gordy has a lot of adjusting to do, but I do believe he will nicely adapt to life in the big city in time. And, he's so outgoing and good-natured: I can see him becoming a bit of a celebrity in the neighborhood before long."

10/21/09: "... Gordy is adjusting very nicely to life in my apartment. I still need to leave him in the crate if I run out for a minute and overnight. But at this point, he's spending about 60% of his time on the loose in his new kingdom. When home, I just leave the door of the crate open in case he needs that safety net. He absolutely loves to snuggle in my bed (can't get over its many pillows) during the late afternoon.

My friend Susan visited for two or three hours tonight. She couldn't believe how much calmer Gordy was than 72 hours ago (when she had last seen him) ...

P.S. There's a private school down the block and on more than one occasion, on his walks, Gordy has attempted to enter its front door with the cackling schoolchildren."

10/22/09: "... This morning, my friend who owns the nearby pet store asked that we drop by, instead of his stopping at my house for coffee. Gordy was only too pleased by this development! He was received enthusiastically at the store and left with a plastic bag of free squeaky toys. On the way home, he stopped at the front door to each store/business along the way, obviously in search of further adventure and more booty.

BTW, I've pretty much decided on a final name: Gordy Konstantinos, it is a tribute to Dino of Pesce Pasta on Manhattan's Upper West Side - a favorite nearby restaurant.

I have a pair of Italian leather chairs in the dining area (very modern); each has a circular cut-out in the back. In his visits to the bay window in that section of my apartment, he has taken to slipping his big head through those cut-outs! He really is a lovable character

... Gordy sleeps at my feet tonight"
10/27/09: "No new pix yet, but Gordy K continues to make a speedy transition. Only now have to crate him when I go out. He also soundly sleeps in my bed overnight, has requisitioned my favorite blanket, and loves to recline on it atop my sofa in front of my flatscreen TV (by which he is mesmerized, like me). Right now, we're watching the NYC mayoral debate. More soon ..."

-----
Gordy continues to make an amazingly speedy and problem-free transition to his new life in the Big Apple. He actually now prefers to prowl the city's streets, rather than walk in the quiet peace of nearby Central Park. He is naturally curious, not the least bit intimidated, and very easily pleased. Every morning, I can't help but marvel at his enthusiasm as he embraces the new day, with his tail wagging from side to side for no particular reason. Even the most grim-faced pedestrians on their way to work can't help but crack a smile when catching a glimpse of him.
Gordy is every inch a boy and loves anything male. The local sanitation men have taken a particular liking to him, his fascination with the garbage collection process. In fact, they have nicknamed him "Clouseau" or "Inspector Clouseau" for the curious, bumbling detective in the Pink Panther movies. Clouseau has also become a favorite of the local food cart owners parked outside nearby schools or construction sites.
The other day, while I was chatting with a neighbor on Columbus Avenue, I felt a tug and heard people laughing, only to discover that Clouseau was attempting to ascend the steps on a NYC bus that had opened its doors curbside. I could tell you a hundred more stories like this; all are testimony to the wondrous creature you gave me. Every night as I drift off to sleep on "my side" of the bed with Clouseau snoring loudly, I tell myself just how blessed I am.
Registered Name: TF Gordon
Sex: Male
Adopted on: Oct 18th, 2009
Color: Light Brindle
Right ear tattoo: 14A
Left ear tattoo: 24156
Birthday: Jan 16th, 2004
Arrived at NGA: Jul 9th, 2008