<- Back to Happy Tails
Charlie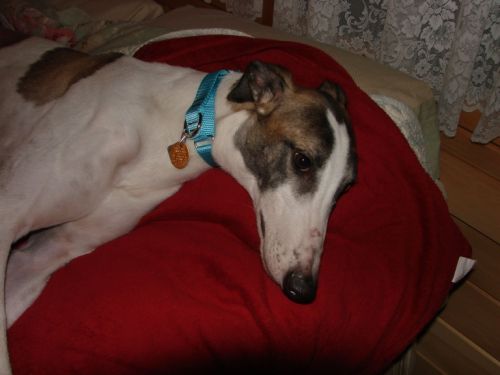 Charlie's new Dad writes:
Charlie is an angel! He is so gentle and loving. I helped him up on our
guest bed and he hasn't left since. Must be he first time on a human bed. We
had a nice nap together and he snuggles up like he's been with us forever!

We could not have found a better dog to follow Quincy! I've attached a few
pictures. I wish he would get up so I can take a picture of him standing!

Thanks so much for your help in adopting Charlie, You have a first class
facility with well kept and healthy hounds! They are all beautiful!
Registered Name: Aljo Free Forall
Sex: Male
Adopted on: Dec 19th, 2010
Color: White & Red
Right ear tattoo: 47?
Left ear tattoo: 42085
Birthday: Apr 15th, 2007
Arrived at NGA: Sep 11th, 2010