<- Back to Happy Tails
Watson (was Easy)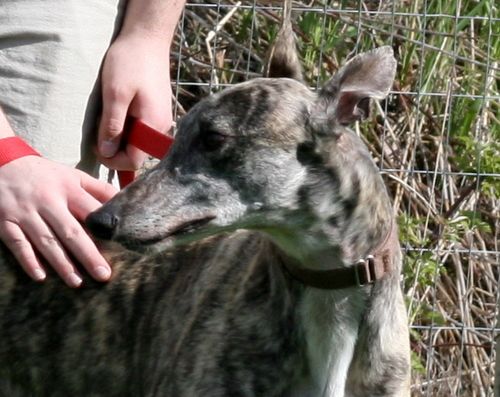 a note from "Watson's" family;

"Hello NGA,
Just wanted to drop you a line and give you a quick update on Easy, our adopted greyhound. First off, Easy has a new name - Watson. He's smart as a whip just like his namesake that
recently prevailed on Jeopardy vs.human competitors! We hope we can stay competitive with him. Seriously, he's a treat to have around and a beaut to behold. We're currently working on stairs and it is going well. Watson obviously has more trouble in the down direction given his long gams, but we're confident he'll get it. Again, fantastic dog and a pleasurable adoption experience.

Thanks and hope to see you @ the reunion!
Dan and Dawn Kelly"
--------------
Easy is a handsome good natured boy - on the big side but wonderfully calm - he will make someone a VERY happy owner, he adores kids too!
Registered Name: Go Bon Easy Go
Sex: Male
Adopted on: Feb 19th, 2011
Color: Brindle
Right ear tattoo: 57B
Left ear tattoo: 42299
Birthday: May 1st, 2007
Arrived at NGA: Apr 11th, 2010