<- Back to Rainbow Bridge
Brandi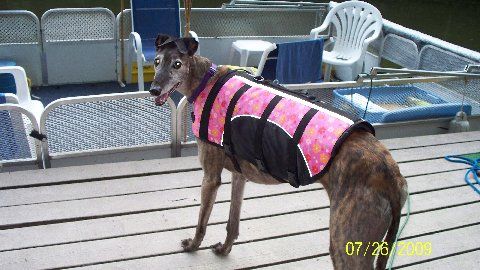 I have put this off for 2 weeks. Brandi crossed the bridge Sept 23 2010. Brandi had recently gotten very weak in the rear end and been diagnosed with spinal stenosis. She was getting laser treatments and medication for that
All considered with extensive surgery and recovery I could not bear to put her through that at her age of 101/2. I am just sick over the whole incident. I miss her so. She was my special little girl. I have tried to attach some happy pictures of her for you to remember.
UPDATE TO BE ADDED SOON!
Brandi weighs about 60 lbs, she seems to be good with cats, is a tad shy, but not a spook - also gentle with children. She's also the oldest at the kennel and one of the longest here!
Registered Name: P's Thinkin
Sex: Female
Adopted on: May 9th, 2009
Color: Brindle
Right ear tattoo: 30C
Left ear tattoo: 87332
Birthday: Mar 11th, 2000
Arrived at NGA: Sep 1st, 2003
Date this dog passed on: Sep 23rd, 2010