<- Back to Happy Tails
Andy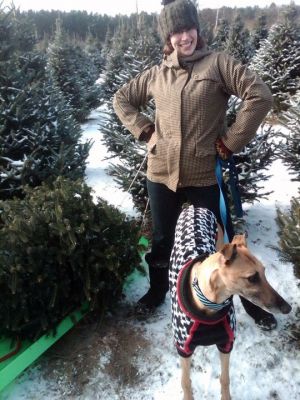 Hello, NGA! It's been a little over 3 months since we brought Sir Andy home, and we are well overdue for our update – and some snazzy new photos of Andy doing what he does best.
Andy has settled in fantastically! He has taken over the apartment with his 2 beds and numerous nesting blankets, and spends most of his time sleeping away – interspersed with some furious nesting in his PJs and some short lived romps with his beloved squeaky toys. He was super interested in the cat at first and seemed to think she might be a fun squeaky toy herself, but he was incredibly responsive to just a few quick "no, don't eat the cat" reminders…aided along by the stubborn cat refusing to give ground. The same seems to be true of small, furry dogs – but, again, he is a quick learner and just a well-mannered boy at heart.
The last 3 months have been a learning process for all of us. Andy's gone through phases of being very curious and outgoing, to extremely shy and nervous, and then back again – over floors, stairs, walking on sidewalks when cars might be approaching (1/2 a mile away). It's been a test of his strength and our patience, but it's been a good process for all of us.
He's nice and healthy, busting out of the winter coats that were baggy on him when he first came home. And, wow, is he a winner with the ladies! I've had many dogs, but Andy gets more comments on his handsomeness and good looks than any of my other pups.
He also travels to work with me just about every day. He sleeps the day away in a bed there, and gets just as many visitors as those of us that actually work there. He has been the perfect office dog – quiet, calming, just gassy enough to give us a good laugh every once in a while.
Here are a few photos of Sir Pants in his new digs. Thanks so much for all that you do, and for helping us find the new addition to our family!
Nicole & Jaime
Andy is a good boy but can be a just a little bit of a handful at times so probably best in a home with older children - a real looker too! Wonderful fun good nature and does calm down, he does love to do his zoomies - out in the yard he loves having someone cheer "Lookit that fast dog GO!" as he does laps, too cute!
Registered Name: Spanky Joe
Sex: Male
Adopted on: Nov 20th, 2010
Color: Fawn
Right ear tattoo: 95A
Left ear tattoo: 34488
Birthday: Sep 7th, 2005
Arrived at NGA: Jan 9th, 2010