<- Back to Happy Tails
Eloise (was Gracie)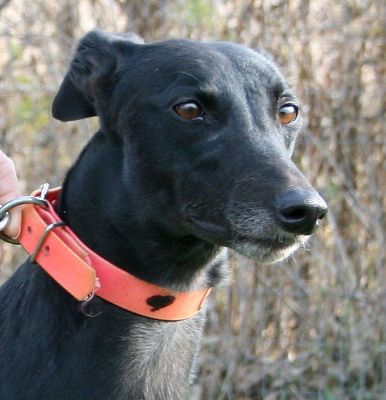 May 6th, 2011:
"Good morning,
Just wanted to share this video with you of Eloise, Ellie for short, (formerly Wild Gracie Baby, she is now named after Whitney's late great-grandmother who passed away at 100 years old the summer before we adopted her). We are living in Rochester, NY now and she has her own fenced in yard for the first time. It's no dog park or race track, but she's able to get a little bit of running in. She is still as sweet as ever, and is she ever the socialite! She loves everyone and everything. Even other greyhound owners are surprised at how extroverted she is. I will try to send some pictures another time.
Thank you,
Jesse & Whitney Partrick"
(video to be added)
-----
Sweet Gracie is littermates with Worm!
Registered Name: Wild Gracie Baby
Sex: Female
Adopted on: Dec 15th, 2009
Color: Black
Right ear tattoo: 46C
Left ear tattoo: 37469
Birthday: Apr 10th, 2006
Arrived at NGA: Nov 8th, 2009