<- Back to Happy Tails
Inga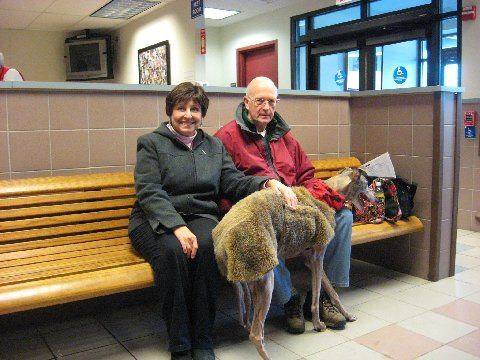 Thru all her trials and tribulations Ing HAS found a home!!! She has made a home with her Angel who of course couldn't help but fall in love with her!
Pics above are from Inga learning the ropes of her new home and from her trips to Tufts Vet College in MA (the first pic is with her new Mom & Dad)

- - - - -

Inga is a gentle, sweet, lovey and very happy girl - to know Inga is to love her!
Inga has been diagnosed with Pannus, it is an eye disease common in some breeds of dogs, though generally not in Greyhounds though it can happen. Pannus is managable and does not mean an end to quality of life at all - especially with a dog as joyful as Inga!
Here is an information page written by owners of another Greyhound with Pannus - it is quite informative but do keep in mind that what worked for their 'hound may not be the answer for all dogs with Pannus. There is a list of links to other sites dealing with Pannus ot the bottom of the page.

- Inga has an Angel Sponsor! She has taken a trip to MA to have her eyes checked out by a specialist at Tufts because of this wonderful angel! They have prescribed a course of treatment and she will need daily - without fail - eyedrops and regular veterinary ophthalmologist visits.
Registered Name: Ingrel
Sex: Female
Adopted on: Jan 10th, 2010
Color: Blue Brindle
Right ear tattoo: 75I
Left ear tattoo: 33461
Birthday: Jul 7th, 2005
Arrived at NGA: Oct 3rd, 2009