<- Back to Happy Tails
Cozy & Euphara - the sisters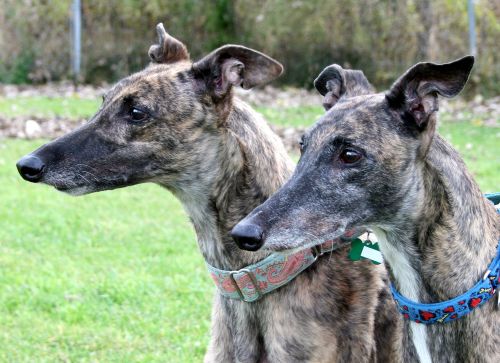 The Sisters went home to Erie PA!

- The Sisters have a home! They should be heading there very soon, with a lovely person who only adopts older dogs - they will be doted upon!
--------
The Sisters are only noted as "special needs" because they are to be adopted out together; it's been requested by their past owner that this happen as their bond is so close and caring - we will be respecting that request because we know the perfect home will come forward for these two lovely sweethearts!
Cozy and Euphara are littermates; they raced together, there were "broodies" together (between them they've birthed 20 puppies) and have never been seperated!
Together The Sisters are an head-turning pair; they look years younger than they are, they have lovely figures and gorgeous brindle coats, and elegant classic Greyhound heads - SO pretty!
Cozy is the more outgoing of the two, Euphara is the more lovey-dovey, together they are the whole package of all that is wonderful about this special breed!
(The link below is to Cozy & Euphara's dam's offspring, they are from her 2nd litter listed.)
Registered Name: Orelon & Euphara
Sex: Female
Adopted on: May 1st, 2010
Color: Red Brindle
Right ear tattoo: 61C & 61B
Left ear tattoo: 95773
Birthday: Jun 1st, 2001
Arrived at NGA: Oct 3rd, 2009